Let's Prepare For A Dallas Winter
11/16/2023 (Permalink)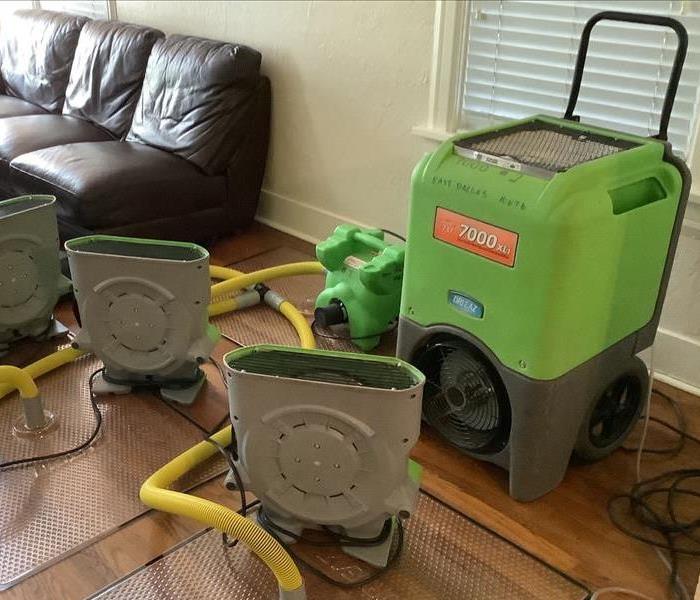 SERVPRO of East Dallas is here to help all of Dallas & surrounding areas. We specialize in water/fire/mold damage repair.
SERVPRO of East Dallas is here to help prevent tips to stop frozen pipes. Preventing frozen pipes is crucial, especially in colder climates. Here are some tips to help you avoid frozen pipes:
Insulate Exposed Pipes:

Insulate pipes in unheated areas such as basements, crawl spaces, and attics.
Use pipe insulation or heat tape to wrap pipes. This helps retain heat and prevent freezing.

Seal Leaks:

Seal any gaps or cracks in walls, windows, and doors to prevent cold air from entering and reaching your pipes.

Keep Interior Doors Open:

Allow warm air to circulate freely through your home by keeping interior doors open. This helps maintain a consistent temperature.

Let Faucets Drip:

Allow faucets to drip slowly during extremely cold weather. This prevents pressure buildup in the pipes, reducing the risk of freezing.

Maintain a Consistent Temperature:

Keep your home heated to a consistent temperature, especially at night. Even if you're away, don't let the temperature drop too low.

Use Space Heaters:

Place space heaters in areas where pipes are more susceptible to freezing, but use them with caution, following safety guidelines.

Open Cabinet Doors:

Open cabinet doors under sinks to allow warm air to reach pipes. This is particularly important in kitchens and bathrooms.

Disconnect Garden Hoses:

Disconnect and drain outdoor hoses before winter. Close the inside valves that supply outdoor hose bibs and keep them open outside to let any remaining water drain out.

Insulate Exterior Walls:

Insulate exterior walls to help maintain a warmer temperature within the home.

Install a Smart Thermostat:

Use a smart thermostat to monitor and control the temperature remotely. Some smart thermostats can alert you if the temperature drops significantly.

Drain the Water System if Away:

If you're going away during the winter, consider draining your water system to prevent pipes from freezing. Alternatively, set the thermostat to a minimum temperature.

Apply Heat Tape:

Use heat tape on vulnerable pipes. Follow the manufacturer's instructions for proper installation.

Professional Inspection:

If you have concerns about the vulnerability of your plumbing system to freezing, consider consulting a professional plumber for an inspection and advice.
Remember that prevention is key, and taking these measures before the onset of winter can save you from the inconvenience and potential damage caused by frozen pipes.